Come in and see our wide selection!
We are proud to carry a broad selection of gourmet cookware and items from the best brands. Our products have you covered from baking to grilling, blending to dicing, and eating to drinking!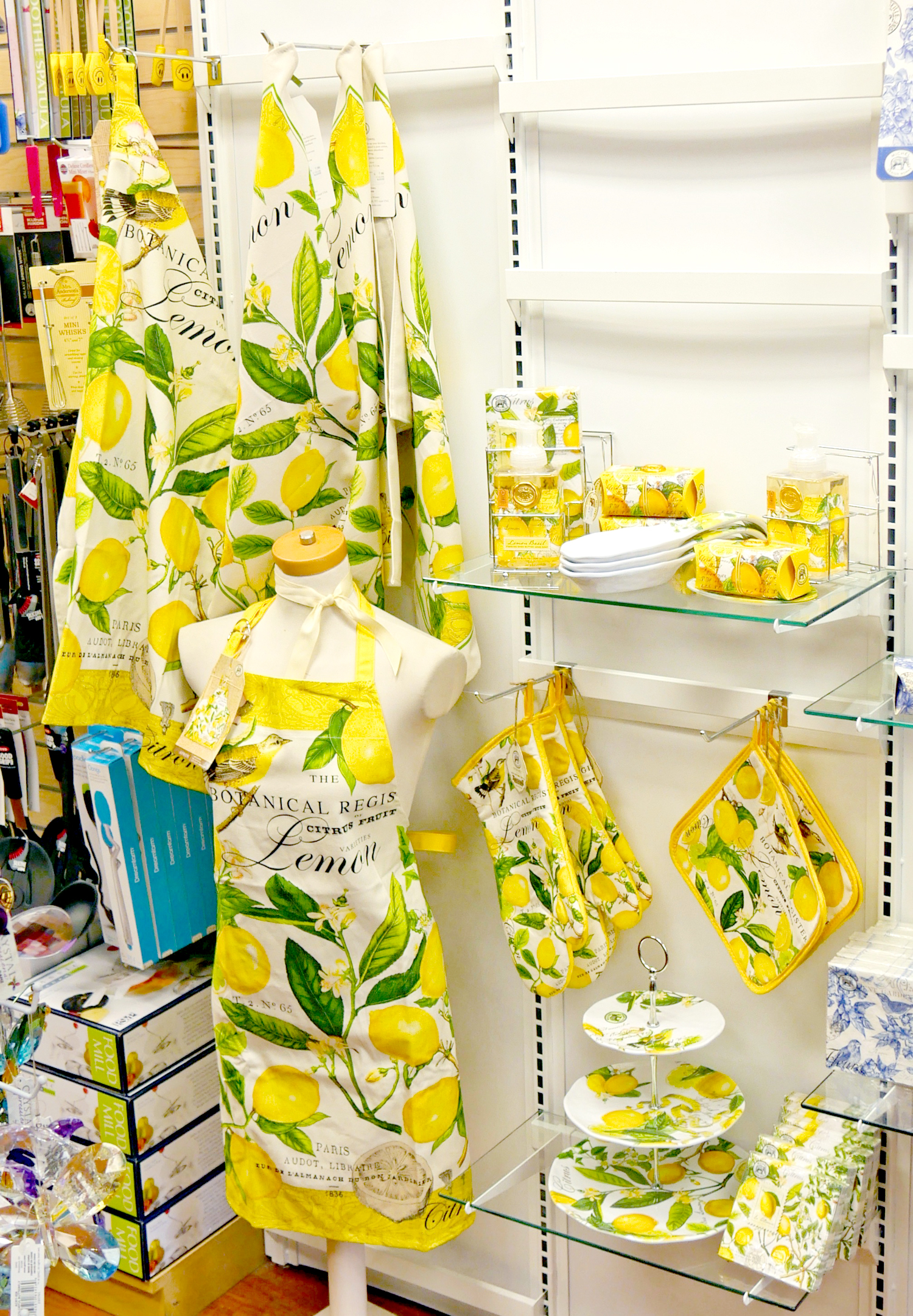 Kay Dee, Now Designs, Michael Designs, Samael Lamont, Messy Mutts, John Ritzenthaler
USA Pan, Oxo, Fat Daddio's, Nordicware, CK Products, August Thomsen, Chic Wrap, American Cookie Cutter, King Arthur Flour, Frieling, Lorann Oils, Nielsen Massey, Americolor
Vacuvin, Corkcicle, Oenophilia, True Brands, Ganz, Le Creuset, American Metalcraft, Prodyne
Harney and Sons, Coffee Masters, Toroni Syrups, Bodum, Mudpie, Salt Sisters, Le Creuset, Chantal, RSVP
Hammersthal, Woll, Freiling Black Cube, All Clad, Finex, Lodge, Zwilling Spirit, Staub, Le Creuset
KitchenAid, Vitamix, Cuisinart, Breville, All Clad, Krups, Chef's Choice, Cucino Pro
Helen Chen, Culinary Collections, Magefesa, Fox Run, Mudpie, Norpro, Urban Accents, Harold Imports, French Farm, Honey Can Do, Swissmar
OXO, RSVP, Nordicware, Mastrad, Progressive, Fox Run, Chef'n, Zak, NexTrend, Harold Imports, Norpro, Kuhn Rikon, Microplane, Tovolo
Nora Fleming, Mud Pie, Ganz, Demdaco, Tar Hong, Pacific Merchants, Q-Squared, Wade Ceramics, Corkcicle, Vinerella, Michael Designs, Picnic Time, Adelene, True Brands, Poo Poo Pourri
Wüsthof, KAI, Hammersthal, Victorinox, Cangashan, Kitchen IQ, Brod and Taylor, John Boos, JK Adams, Epicurean Cutting Services, Ironwood
BIG Green Egg, Charcoal Companion, Outset, Kick Ash Basket, Smokeware, Meatchurch, Gentry BBQ, Component Design, Maverick, Cameron's Products, Finex, Lodge, Dizzy Pig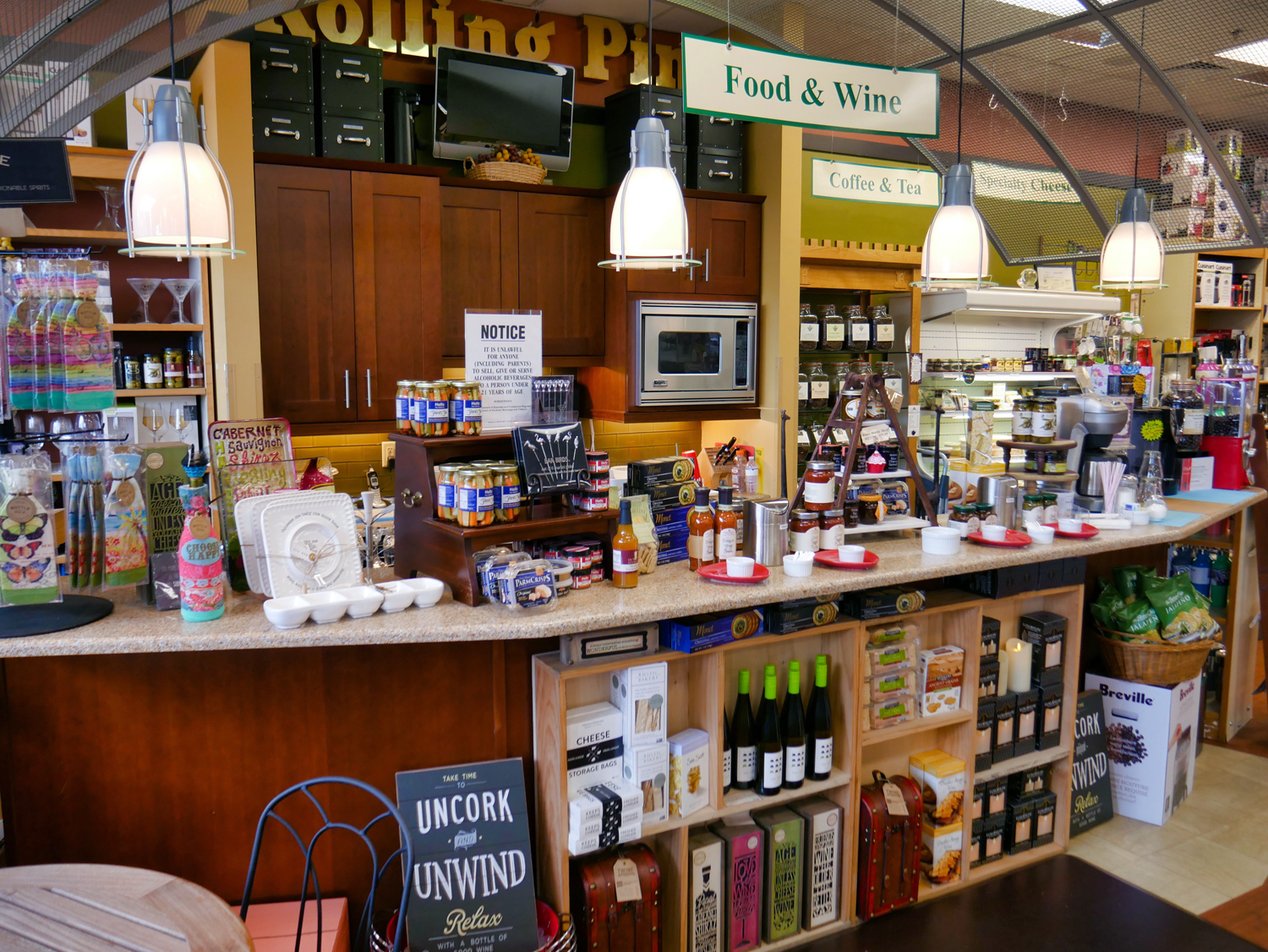 Stonewall Kitchen, Robert Rothchild's, Bissinger Chocolates, Le Grand Truffles, Gourmet Foods International, Terrapin Ridge, Rossi Pasta, Salt Sisters, Meat Church, Urban Accent, Victoria Gourmet, King Arthur Flour, Intensity Academy, kitchen Fusion, Savannah Bee
Join our Frequent Buyer's Program!
REWARDS: FREQUENT BUYER'S PROGRAM
This program rewards you, our customer, for your loyalty. When you choose to participate, our associates will record your name and information into our database. This information need only be recorded once. Your information is secure and will not be sold or lent. It is for our internal use only! Each of your pre-tax purchases, will be automatically entered with each visit. You do not need to carry a card or receipts. We track it for you, you just provide us your name when you visit.
BENEFITS
Free
No Card To Carry
20% Birthday Discount
Insider Email Discounts
Exclusive Insider Pre-Notification of SalesEvents & Guest Chefs
Complimentary House Wine
Water or Coffee While Shopping
For every $100 spent, receive a gift certificate $5 OFF purchase of $15 or more
THE FINE PRINT: Discount not valid on cooking classes, prior purchases or gift cards. Cannot be combined with other offers. This is just our way of saying "thank you" to all of our loyal customers.
Layaway
LAYAWAY: Discover the easy way to get what you want and pay over time. Shop for your favorite kitchen items, put them on layaway and then make payments over a 60 day period. Before you know it, you'll be taking your items home, free and clear.
Details: Layaway is 60 days $20 down or 20% down (Whichever is greater) All payments must be received within 60 days. A Layaway may be canceled, but a merchandise credit will be given for all payments made toward the layaway